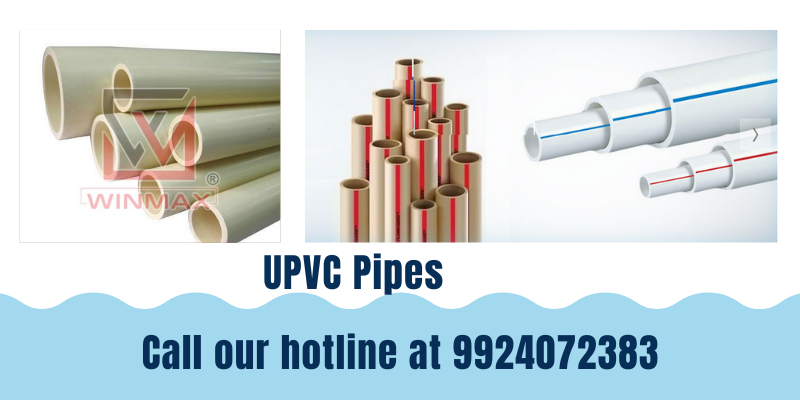 Pipes have been in use since ancient Roman times for transporting water. As anyone will tell you, a pipe must be chosen with care to avoid headaches in the future. Leaky and faulty pipes can cause mouldy walls and paint chipping, along with weakening the wall's structural integrity.
Hence it becomes essential to choose the right type of pipes for your project, whether it is residential or commercial.Unlike the ancient Roman times though, when all pipes were made of lead, we now have many options available. One of them is UPVC pipes, which are the go-to for all piping needs.
What is UPVC
UPVC stands for Unplasticized Poly Vinyl Chloride. UPVC pipes forego the phthalates and BPA that is found in PVC pipes. This sacrifices the flexibility of PVC pipes but makes up for it by being ideal for transporting potable water. This is because the absence of chemicals like the phthalates and BPA make sure that no chemicals are leached into the water.
Contaminants Free
It is important to choose the right UPVC pipe manufacturer because UPVC pipes do not contain lead. Lead contamination is a major issue in the world as hundreds of people die from lead poisoning. Lead pipes were also used exclusively in ancient Roman times which explains their low-mortality rate. UPVC pipes are non-toxic and free of heavy metals.
They are also rust and chemical free which makes them zero-risk. Unlike metal pipes, rust build-up is impossible in UPVC pipes.
Physical Qualities
UPVC pipes are resistant to corrosion and have high tensile strength. This makes them ideal for use for a variety of cases. These include transportation of water in from borewells, plumbing for home or office use, etc. They are also resistant to heat up to 60° C. These pipes are corrosion resistant as well, and their leach-proof qualities make them the undisputed leader in transporting water, oils, chemicals, sewage.
Their high tensile strength means that they can resist huge amount of pressure without bending or breaking. Good quality pipes from the right UPVC pipe manufacturer also ensures that they have great impact resistance. These qualities make them resistance to high pressure application in borewell piping. This also means that UPVC pipes are resistance to breakage in the case of earthquakes.
Deposit Free
The smooth interior of UPVC pipes encourages smooth flow of water, potable or otherwise. It also makes sure that there is no build up of deposits inside the pipes. This quality makes it ideal for use as sewage pipes too as no build up of deposit means no blockage.
Lightweight and Versatile
Finally, UPVC pipes are lightweight as well, which makes them a breeze to transport. Workers can easily transport these even to high rise buildings on foot due to their lightness. Good UPVC pipe manufacturers also offer them in various lengths, forgoing the need to install lots of pipes for long stretches.
These are also leak proof due to the use of solvent cement in the joints. Easy installation due to the light weight is guaranteed. So is the assurance that these pipes will last for decades. They also save on maintenance costs as they do not corrode or break easily.