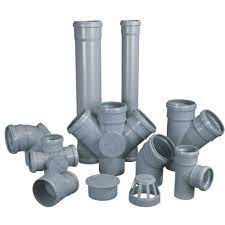 In today modern world, the sewerage system is one of the important parts of the household system. Without an effective sewerage system, a society cannot exist for a long time. After the invention of lots of new technology, pipe manufacturing companies prefer to use durable and lightweight materials to make a robust quality pipeline.

SWR or Soil, Waste & Rains is one of that unique and highly durable pipelines that can resist any harsh weather. This pipe is immune to fungi, microorganisms, and bacteria. In a commercial and residential applications, SWR pipe fittings have huge benefits.
The Uniqueness about SWR Pipes
SWR pipes are very tough and can sustain any pressure. Manufacturers create SWR pipes in a unique manner that doesn't cause any rusting on the pipes even if you use them for a long time. The unique fitting of the SWR pipe is chemical resistant, and Polyvinyl chloride is the primary ingredient of the SWR pipes.
For outdoor piping, ventilation system, and drainage systems, SWR pipe is very useful. SWR pipe fittings in Lothada, Rajkot, Gujrat are becoming popular due to their unique usefulness.

Benefits of Using SWR Pipes
The unique benefits of using SWR pipes are as follows-
• SWR pipes are tough and reliable that provide high strength that makes the pipe durable and reliable. The strength of these pipes makes them unique for different industrial, domestic, and commercial application. It is perfect for sewerage and drainage system.
• SWR pipe has high fire resistance capacity. Apart from fire resistance, this SWR pipe is corrosion and chemical resistant. This pipe doesn't rust over time, and the smooth surface of this pipe prevents build-up deposits in the pipe interior. Even the non-flammable properties of the SWR pipes make them useful for transporting chemical bi-products, industrial heated residue, and toxic chemicals.
• SWR pipe has an incredible weight facility. The lightweight nature of this pipe makes it easy while installing, and it doesn't require huge maintenance.
• SWR pipe fittings are cost-effective, and thus it doesn't require a huge installation cost. The lightweight SWR pipe is easy to install and transportation and the SWR pipes durability ensures high efficiency.
• SWR pipes are safe and environmentally friendly, and they can stand against harsh weather conditions. Due to their non-conductive nature, SWR pipes are becoming popular rapidly.
SWR Pipes Manufacturers
The world of the pipeline and sewerage system has been changing rapidly over the last decades. Nowadays, these are useful for several purposes in various industries for unique purposes. Pipe manufacturing companies are trying to adopt the new technology to provide the best quality pipeline for a better sewerage system.

Every pipe manufacturing company tries to provide the best quality pipeline at a reasonable price. But quality control is the biggest challenge for the pipeline manufacturer. SWR pipe and SWR fittings that can resist any harsh weather climate and other unpleasant situations require broader application development.

These are the essential things about SWR pipes that one should know before purchasing them from authentic manufacturers. But always ensure about the pipeline quality before buying.
Our pipe fittings come in various sizes like:
40mm
50mm
63mm
75mm
90mm
110mm
140mm
160mm


Shri Ram Plastic is always trusted in the field.