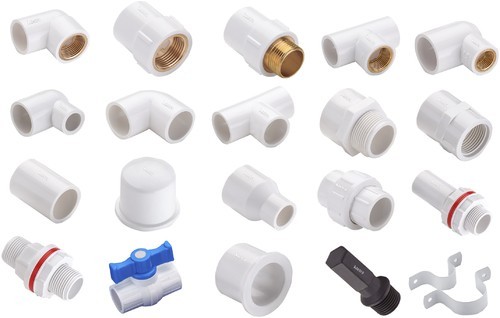 We know that PVC is quite versatile and used over external wire casings, cables, piping, and packagings.
UPVC and CPVC are their subsets. PVC is indeed rigid and plasticizers make it softer. Here we will mark the major differences between UPVC and CPVC.

PVC pipes have huge significance in soil drainage, irrigation, building waste management, electrical wiring conduits, and chemical transportation. Sometimes, PVC pipes are also used as water pipes inside the building.
PVC fittings are an addition to the manufacturing industry. The industry is more focusing on PVC rather than lead which may cause several health issues if used in piping for potable water. Hence, we can understand the importance of PVC pipes for drainage and potable supply of water. Let's look for a few Indian Standard recommendations for the usage of PVC pipes.

Supply of Potable Water:
IS 4985:
UPVC, the abbreviation of Unplasticized PVC is ideal for water supply. This standard has provision for socked-ended and plain pipes including various sealing rings. Other Indian Standard codes for pumps or Tube well fittings are IS 12231, IS 12818.

Drainage:
IS:9721
IS 12592 and corrugated pipes are good for managing the soil and drain waste.

PVC pipes show excellent features:
• Corrosion-resistant,
• Ease of flow with smooth surface,
• Lower the growth of bacteria,
• Ease of repairs or installation,
• Cost-effectiveness.

PVC Pipes Limitations:
As we go through in detail PVC pipes, we can imperatively look at few limitations of UPVC as compared to CPVC.
• All graded Upvc Cpvc Pipe Fittings are not acceptable for the usage of a potable supply of water. Make sure that the pipes are lead-free.
• For hot water suppliers, PVC pipes are never used.
• Sometimes we get manufacturing defects in PVC pipes as more filler materials are added. Hence it gets poor functionality and brittle.
• PVC pipes show a strong tendency to become brittle and limited stability over UV rays.

About 70 years ago, PVC showed its popularity with a little shortcoming. But there were huge advantages which neutralised all disadvantages or limitations. Hence, after huge research Chlorinated PVC or CPVC was made after one decade. It has some added benefits when used for cold & hot potable water piping for in-house as well as commercial usage.
CPVC is made after the chlorination of PVC resin. It is more stable and can withstand high temperatures as compared to standard PVCs.

Generally, if you observe, there is about 57% chlorine content in standard PVC whereas CPVC has about 10% more chlorine content. The chlorine content in its hydrocarbon chain makes it stable in higher temperatures. The oxidation potential is also decreased and protect from any kind of degradation when exposed to heat exposure, oxygen, and UV rays.
The patent of CPVC is well approved by the topmost organisations in the world including India. It is bringing good results in water distribution and supplies.

Conclusion:
Hence, under Upvc Cpvc Pipe Fittings, you can mark CPVC as an upgraded model of PVC with all the advantages after overcoming certain limitations.

Make the hassle-free plumbing system in the home by adding the right pipe fitting.
Shree Ram Plastic deals in CPVC Pipe, CPVC Pipe Fittings, UPVC Pipe Fittings and more. Contact us for more details.

This entry was posted on June, 11, 2021 at 19 : 08 pm and is filed under Upvc Brass Fitting. You can follow any responses to this entry through the RSS 2.0 feed. You can leave a response from your own site.