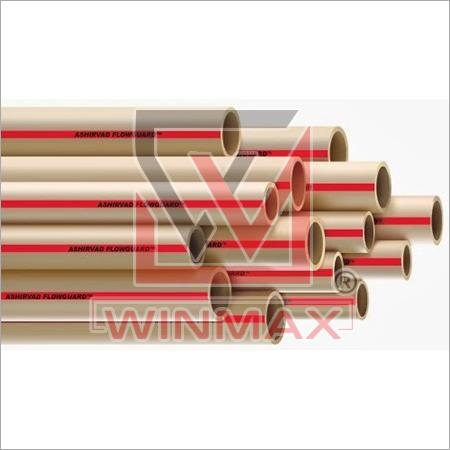 The importance of industrial piping material's safety performance cannot be overstated—these environments have hundreds, if not thousands, of lives at stake, thus they are continuously monitored and regulated by government organisations.
When cost and dependability are added to the list of crucial elements to consider when selecting industrial piping, it's evident why material selection for process water applications is so critical.
Among the many piping options available, CPVC's excellent strength, performance, and safety make it an ideal solution from a CPVC Pipe Manufacturer for industrial process water applications.
For industrial plumbing, procurement specialists have traditionally depended heavily on steel and other higher alloys. However, an overall examination shows that CPVC pipes from a CPVC Pipe Supplier frequently outperform metallic systems and are more cost-effective over time.
CPVC is a polymer that is gaining popularity due to its cheaper overall installation cost, less maintenance and safety problems, and great performance with a wide range of chemicals. And the advantages don't stop there.
CPVC provides an array of major benefits that can and have benefited the bottom line of industrial operations water applications around the world.
● Ease of Installation -
A simple two-step solvent-cementing procedure is used to install CPVC pipe and fittings, which generates a highly reliable junction by chemically bonding the pipe to the fitting. When placed correctly, a solvent-cemented CPVC joint becomes the strongest portion of the total system, providing greater longevity than either the pipe or fitting alone.
Furthermore, CPVC pipes from a CPVC Pipe Fittings manufacturer, is lightweight, weighing around one-eighth the weight of comparably sized steel piping. This implies fewer sophisticated tools, faster installation, and simplified maintenance, all of which reduce labour time. Furthermore, CPVC installation does not require electricity, making it appropriate for applications where power is not always accessible.
● Lesser Maintenance -
A CPVC drainage system from a CPVC Pipe Fittings supplier demands little to no upkeep when correctly installed. Furthermore, external pipe coatings are not required because CPVC is unaffected by even the worst soil and air conditions.
However, if a section of the piping needs to be replaced, a simple repair can be accomplished without the use of a welder or a lifting mechanism to hoist equipment into place.
● Optimum Flow -
The smooth inner surface of the CPVC industrial pipe avoids scaling and fouling, minimising friction pressure drops in the fluid flow from the start. This implies that CPVC piping has high flow rates, permitting more liquid to be moved with smaller pumps and much less energy.
● Additional Safety -
Not only is CPVC safer to install than metal, but it is also often healthier to use. Because a CPVC Pipe has a reduced thermal conductivity, it not only decreases heat loss but also maintains the pipe's surface temperature lower, lowering the risk of burns to maintenance and operating employees.
CPVC has a C-factor of 150 at the outset and retains that flawless internal surface throughout its lifetime by avoiding corrosive effects. Because fewer pipelines, smaller pumps, as well as less energy, may be utilised to convey fluids at the same pace, facilities can be more efficient and save money.
CPVC industrial plumbing can also survive long-term exposure to even the toughest environments without deterioration, making it excellent for long-term outdoor installations.