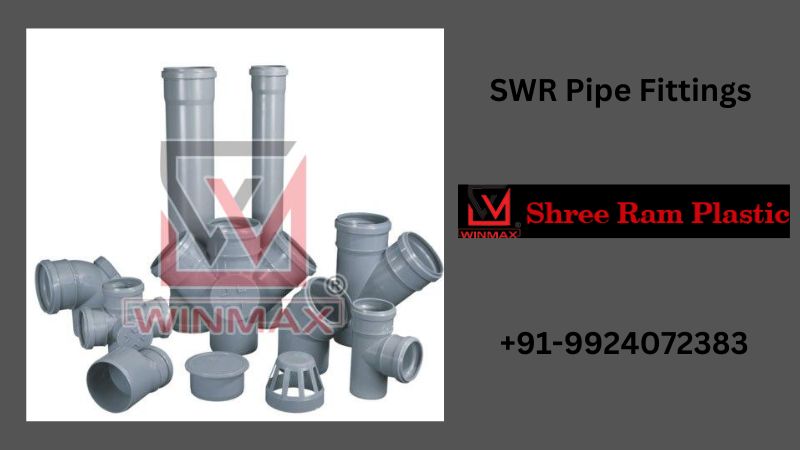 In the past few decades, polyvinyl chloride or PVC has transformed human life on a large scale. Wherever we see, the use of PVC has emerged notably in both residential and commercial sectors. But why has PVC become so much popular? The answer lies in the fact that there is no other element that can be more multi-functional than PVC.
For its lightweight design and low maintenance charge, PVC is considered to be one of the most desired materials for each purpose whether its interior design or productive pipe fittings. PVC is a low-carbon plastic which makes it requires less energy and fewer resources to assemble. Due to their low-weight design, they are easy to be handled and transport. Another major boon of PVC items is they are very easily recyclable.
For these extensive advantages, PVC is used on a major scale for manufacturing various pipe fittings and pipelines. SWR pipe fitting is notable among them. SWR pipe fittings are utilised for non-pressure plumbing usage, such as transportation of waste, soil, and rainwater, non-coercion industrial drainage use, and waste discharge networks in both commercial and residential possession.
Hence, in this article, we would discuss everything about SWR pipe fittings and the reasons why UPVC is recognised as the best material for making SWR pipe fittings.
What Is UPVC
UPVC is referred to as the un-plasticized polyvinyl chloride which demonstrates powerful resistance against strong chemicals and harmful components of nature. As the name conveys, UPVC doesn't contain plasticizers that guarantee flexibility and toughness in plastic.
Due to the usage of un-plasticized materials, UPVC pipes are free from toxins and other chemicals. The manufacturing procedure of these pipe fittings includes eco-friendly and virgin un-plasticized polyvinyl elements. Therefore, these outstanding non-toxic attributes make UPVC pipe an appropriate option for any residential or commercial usage and SWR pipe fittings.
Uses Of UPVC pipes
The excellent non-toxic and low maintenance features of UPVC pipes make them suitable for drinking water purposes or any other plumbing requirements of both private and business possessions. UPVC pipes are also considered to be the best option for SWR pipe fittings due to the below-mentioned reasons.
Immense Strength
The first advantage of SWR pipes which make them perfect for outdoor application is nothing but their immense strength. SWR pipe fittings are generally put outside a building and are more exposed to the environment. For this reason, SWR pipes must be powerful. UPVC is a strong material and therefore ensures this stability to SWR pipes. They are both scratch-proof and leak-proof.
Durable
The next advantage of SWR pipes is they are extremely durable in comparison to other pipe fittings. SWR pipes must be durable since they are generally used on the outer side of a building and a building remains strong for at least 50 years. SWR pipe fittings assure that you don't have to repair your house's SWR pipes repeatedly. The shelf life of a uPVC pipe is a minimum of 50 years with minimal supervision.
Compact
One of the biggest advantages of UPVC SWR Pipes is they are extremely compact and lightweight. Therefore, installation and transportation of these pipes are simpler and inexpensive when compared with G.I. pipes.
Chemical Resistant and Rust-Free
Many of us don't know that UPVC SWR pipes are both chemical and corrosion resistant. This is a big benefit, as SWR pipes are generally installed outside of a home and are exposed to dust, rainwater, and domestic chemicals. This chemical resistance of rust-free features makes these pipes functional for a long time.
Heat Resistant
UPVC SWR pipes can carry both hot and cold water and can withstand a temperature of up to 60°C. This extraordinary feature makes these pipes a great choice for any outdoor usage.
Fire Resistant
Another considerable aspect of SWR pipe fittings is they are extremely fire resistant. UPVC SWR pipes are completely non-flammable and don't burn continually without an outer source of ignition.
Inexpensive
SWR pipes are inexpensive in comparison to other pipes since these pipes assure minimum maintenance, installation, and capital expenses in comparison with other piping systems. The lightweight feature of these pipes makes these pipes easy to install, which in turn lessens overall costs. The stability of the SWR pipes also assures efficiency, thereby making it reasonable over other piping options.